Ardex Premier
On Prem or Cloud. Proven solution for medium, large and Enterprise equine operations
Ardex Premier is an On Premier and Cloud Solution with a proven track record to optimise equine operations and gain greater insight, accuracy and transparency to grow your business.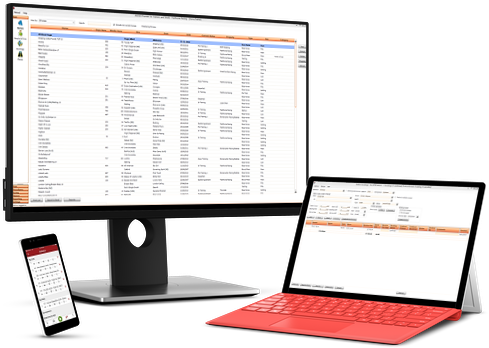 Accounting for every horse
Easy tracking on all horse activity, procedures, financials and communications. Auto generation of management fees, recoverable costs and standard fees. Easy accounting and GL functions provide comprehensive financial management benefits.
Customise to match your requirements
Regardless of your connectivity or company structure. Ardex Premier is flexible to match your operational requirements. On Prem servers or cloud based; Replication across multiple locations. Multi ledger, divisions and currencies features available to optimise your operations.  
Insights and reporting
Access hundreds of reports to improve your operationally efficiency. Build custom ad hoc reports to reflect your individual management requirements.
Key Features
Fast and accurate tool to monitor your operations
Full General Ledger 
Control and Transparency across all facets of your business
Financials:
Transactions against a horse and/or person
Split invoicing based on ownership
Multi ledger
Multi currency
Divisions and consolidated reporting
Automatic transaction generation when procedures are completed
Bulk journals
Racing NSW statement predictor
Bulk Journal ad hoc auto generation
Bulk payments
Approvals for mobile procedures
Reallocate transactions wizard for ownership changes
Import Ardex Statements from Suppliers
Expense reallocation to recover costs
Quick credit wizard to credit horse or owners
Quick transfer wizard to transfer funds between accounts or debtors
Adjustments
Easy to use bank reconciliation tool
Payments and deposits
Automatic deposits reconciliation for credit card payments
Horse Money wizard to distribute prizemoney
Step by Step month end wizard to produce accurate statements for your clients
Month end validation helps to warn of inaccuracies in billing.
Discounts for services
Interest on overdue accounts
Email remittance advices
Easy to read statements
General Ledger features
Key Reports available (P&L, Tax Analysis, Trial Balance)
Budget Management
Horse Management:
Procedure and activity management
Track work management on an ipad
Mare milestones and stud management on an ipad
Work items module for ipads
Location status management system
Key reports available (Procedures, horse details, etc)
Validate new horses with their sire, dam, markings, DOB and microchip number automatically added.
Track racing activity
Split ownership
Interested parties for communications
Voice notes
Video notes
Progress notes
Automatic advice and communication generation based on procedures
Worksheet reminders
Photos and media management
Incentive scheme management
Automatic racing correspondence
Sale and purchase management
Excellent Stallion and stud management
Stud book return
Season rollover
Person (Owners, Suppliers, Property Management)
Video, voice and progress notes sent to owners and interested parties
Single statement for each client with all their horse financials
Transparent person record
Set interest and discount defaults
Individual roles for each person record
Track communication and financial methods
Add attachments, photos and media against each person record
Bad debtor management
Manage transactions, invoices, receipts and payments for each person  
Person categories for relationship management
Profiles for marketing and CRM
Mail merge and communication
Notes register to track sales calls and follow ups.
Contact Ardex for a free consultation